Get instant stump grinding prices.
Using our online calculator is an instant way of knowing what your tree stump removal cost will be.

If you need a Tree lopping service first.

Go to our "Need tree removal first?" page. That will give you some numbers to call.
If you need fast efficient tree stump removal or tree stump grinding we can help.
We have been in the tree business for over 20 years around Melbourne and have much experience in tree stump grinding to share with you.

Tree stump removal goes by many names:

Tree stump removal

Tree stump grinding

Stump grubbing

Tree stump grubbing

Stump grinding

Tree root removal
So it doesn't matter what you ask for it all means the same thing.

The usual method of tree stump removal or stump grinding is to use a stump machine to grind a tree stump into very small chips and to then rake the area flat and neaten up.

We can usually get the whole tree stump out as our machine can go about 13 inches / 330 mm deep, this will however depend on the access conditions available, but we will let you know how much of the stump we can remove.

These 2 images show a typical before and after shot of tree stump removal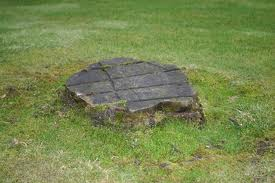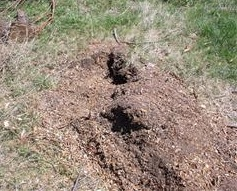 The area of the tree stump grinding is not suitable to replant another tree in the same place. We always suggest that if you wish to put another tree in the same place that the dirt and wood chips from the tree stump grinding be removed placed thinly over a garden bed and the hole filled with new soil.
I have been told that as the wood chips from the tree stump removal, break down, the soil uses up a lot of nitrogen and nutrients to do so and therefore is not an ideal environment for a new plant to grow in.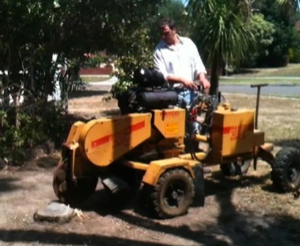 We predominantly use a rayco stump machine as illustrated.
This machine requires a gap of 35 inches or 890mm to go through. If your access width is less than this we can still quote and organise for you tree stumps to be done.
We can cater for extremely narrow access jobs also.
There are many aspects that need to be taken into account when sizing up a tree stump grinding job.
The machine is not selective with what it cuts and will cut through phone lines copper pipe and even steel pipe very easily. Because of this we are not always able to remove the tree stump fully but we can usually get enough of the main root area of the tree stump to ensure that it does not regrow.

Occasionally because of access issues we may have to dig out the tree stump by hand if we think that is possible.

Raised garden beds can sometimes be an issue to get the tree stump machine to, but we are always willing to come and have a look to see if we can help you with your tree stump removal.

We are very rarely unable to to something about a problem tree stump.

We have even had to take the machine in through the front door of a house to get in so don't be shy in asking us how we can help.

We can usually get onto your tree stump job within 2 - 3 days of you giving us the go ahead for the job.
We can fit in emergency tree stump removal jobs if needed.

As the map in the side bar shows, we do cover quite an area fro tree stump removal.
We do tree stump removal in the Eastern Suburbs of Melbourne and are based in Blackburn, Mulgrave and Ascot Vale.
We do go further afield for tree stumps as required.
The main thing is give us a call and we''ll work out how we can help.
This sites tree stump removal and stump grinding pages are Copyright: 2012 Mario Deluca